Today I got my NewCapBoomer figure (
Diamond Select Toys
, Toys 'R US exclusive). (found on EBay - I guess I'll receive Rose's package very soon; anyway, I wanted two of them)
It's one of the best "Grace Park" face I've seen on an action figure. And it's the first really available yet. (not counting the often seen-but-never-released-prototypes) There must be a variability, but mine is very well "drawn".
A little bitching, if you don't mind:
Boomer has *never* been seen with a weapon after KLG2. (I used this in my fic
Another Perfect Day
) That's not very fair. That's even scandalous *. And why has she the "Cylon Device"?
Look at the text:
After being reborn and discovering her true Cylon nature, the Number Eight model known as Boomer sided against her former friends and helped the Cylons maintain their occupation of New Caprica
. Simplistic, and and not much fair either. No Caprica-Boomer quixotic "Live in Peace" project?
The pict' on the right bottom comes from
Eye Of Jupiter
, btw. Boomer never wore this outfit on New-Caprica. (I'll check again, but I'm quite sure) She was seen in it in
Rapture
, too.
I found an almost perfect match: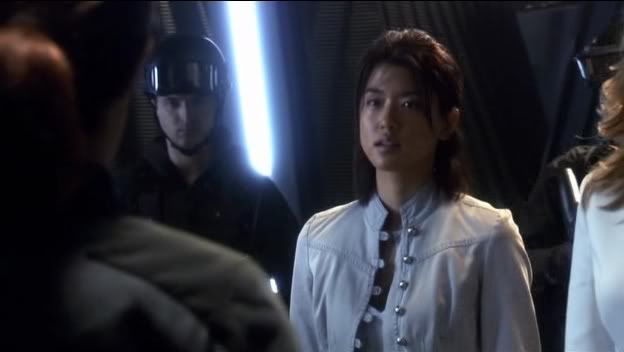 EOJ, 15th mn, just before "That's Boomer"
Anyway, that's great to have a Boomie action figure now!
* I didn't expect her to come with a dove, but seriously, a
gun
and a Cylon Device? Maybe
Diamond Select Toys
knows something we don't... >
The Plan
? oh my... (did Boomer bring the Cylon Device aboard
Galactica
, in the miniseries?)