From the
Pegasus Books - What's Inside?
thread @ Propworx. [
http://forums.propworx.com/index.php?sh ... 1055&st=20
]
Someone wanted to know what was inside the zounds of
Pegasus
books that were sold at the multiple Propworx EBay auctions.
My first post in the thread:
Well, I got a black
Attack Procedures
vol.14, with a green stripe, medium thick, in pretty good shape.
It's a BIN item, so it won't show in the Propworx archives.
I wasn't really into Peggy books, but I found the title cool, liked the "serious" black color, and the book thickness looked ideal. (not too small like a "brochure", or too big like an "obvious phone-book")
The inside is the third volume of the "
Encyclopedia of African-American Culture and History
" :
ISBN 0-02-897345-3
Propworx Hologram 12953
Member Wight identified this book:
Quote:
Comparing your book with only other black spine copies
(in the Propworx auction archive)
:
Yours has narrower Pegasus logo, thus leaving a lot of space between logo and edge of spine (Yellow circle). Also the small label at bottom (red circle) is WELL away from the edge of the spine on yours. On the other two it's either close or overlaps.
Adama in Cain's office in "Pegasus" when she announces she's going to merge the crews of the ships:
Yellow circle shows logo well away from spine, ditto with small label (Red circle) which is very obvious. Pretty much has to be your book.
Then me again:
Thanks, Wight!
I tried to get a better frame of
Pegasus
@ 35mn 32sec, from a 720p version of the extended episode.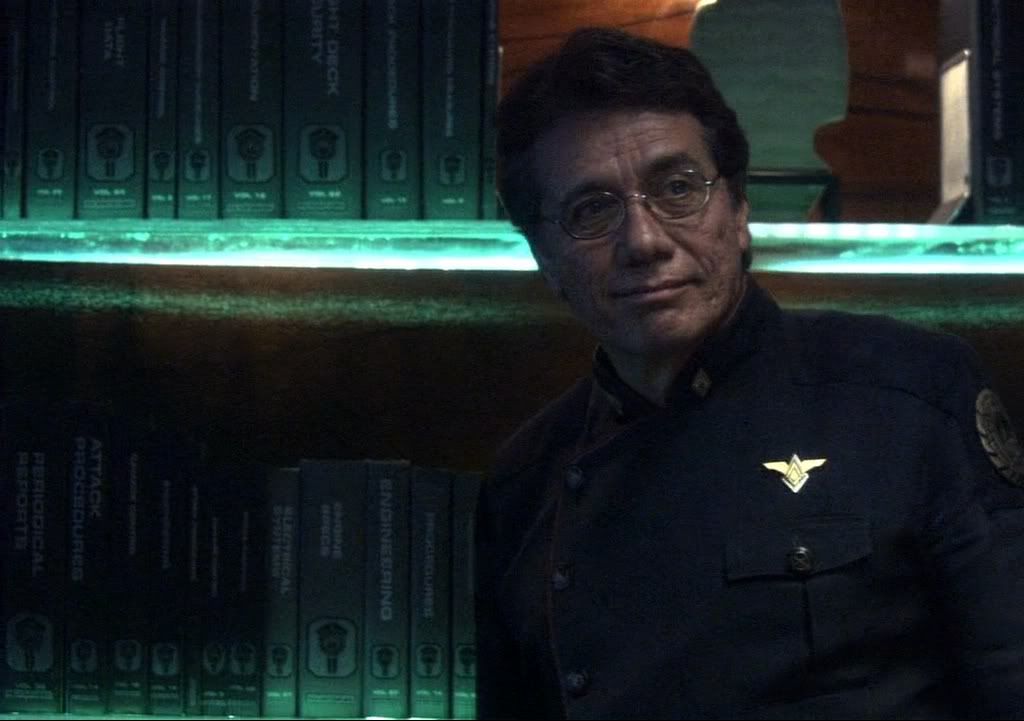 And the "spine-view" of my book :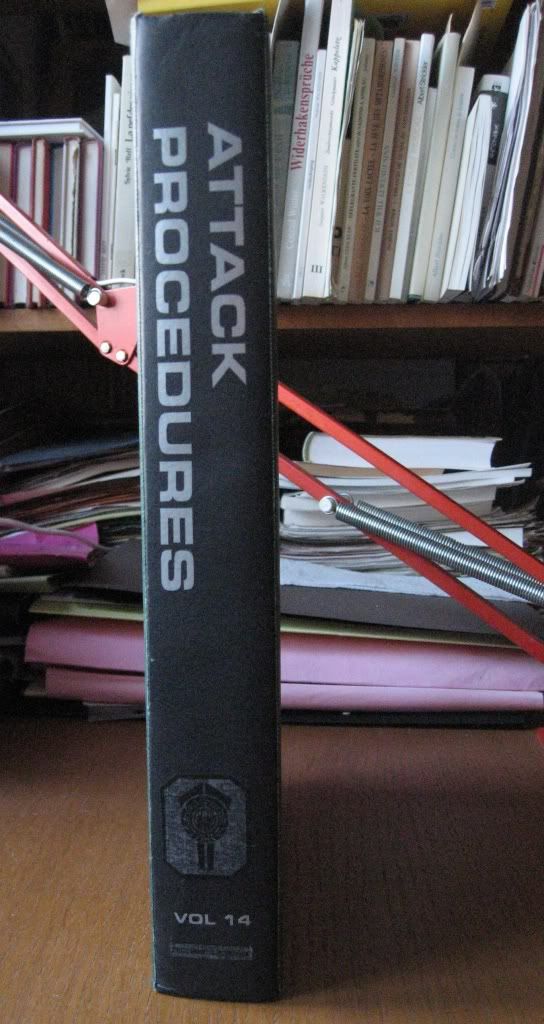 Well, it's a black Attack Procedures book in the episode. It could be a "14", and indeed, the topology matches. No definitive proof, but...
And finally Wight provided two other "studies":
Quote:
I agree the last digit looks like a "4" for sure, definitely not a "5" or "2" as per other two books...
I need Blu-ray. Easier to match, even with the "snow" effect from the grain filters they used.
So I think I'm rather convinced.